D-1 GETTING READY FOR THE TOUR AUTO OPTIC 2000 29TH EDITION!
---
Published by Boutsen Aviation
On August 31st, Thierry Boutsen and co-driver Hervé Ordioni were at the Grand Palais in Paris for the administrative checks and technical scrutineering of their 1965 Porsche 911. They are now set to line up at the start of the oldest motor race and tackle the 2,000 kilometers of French roads.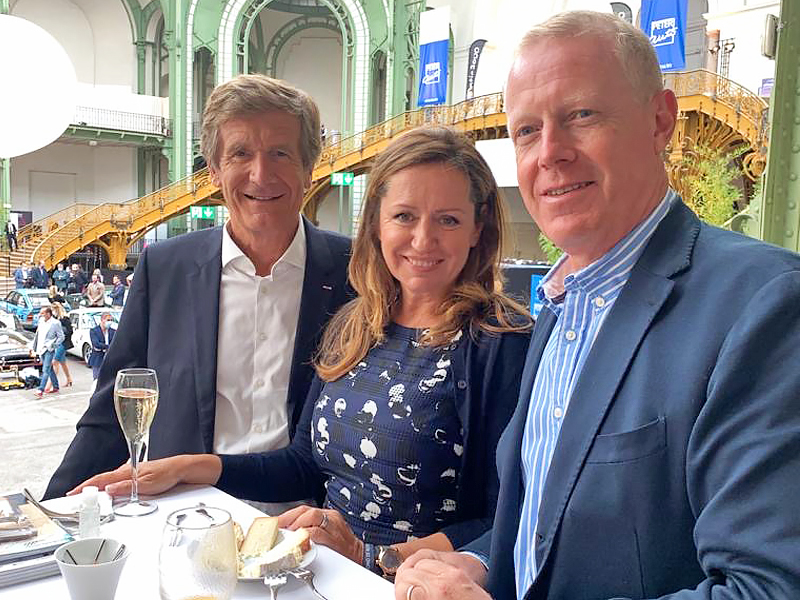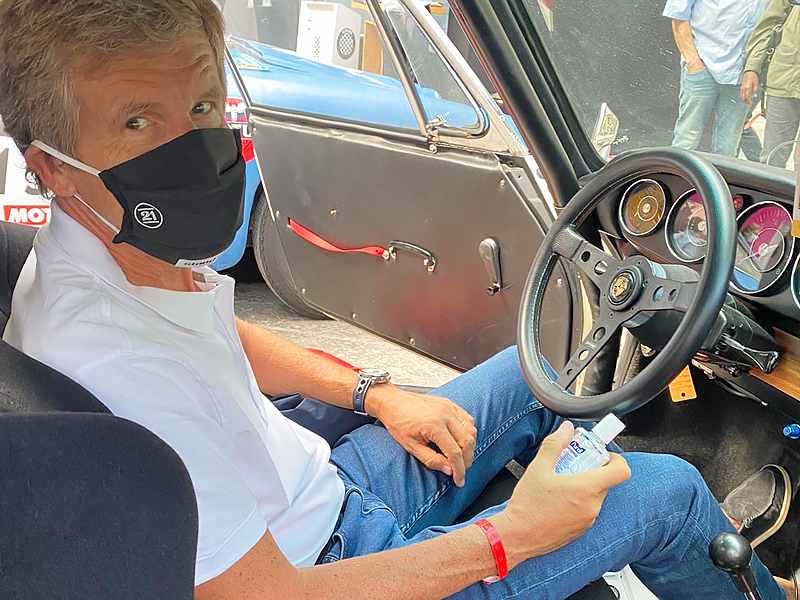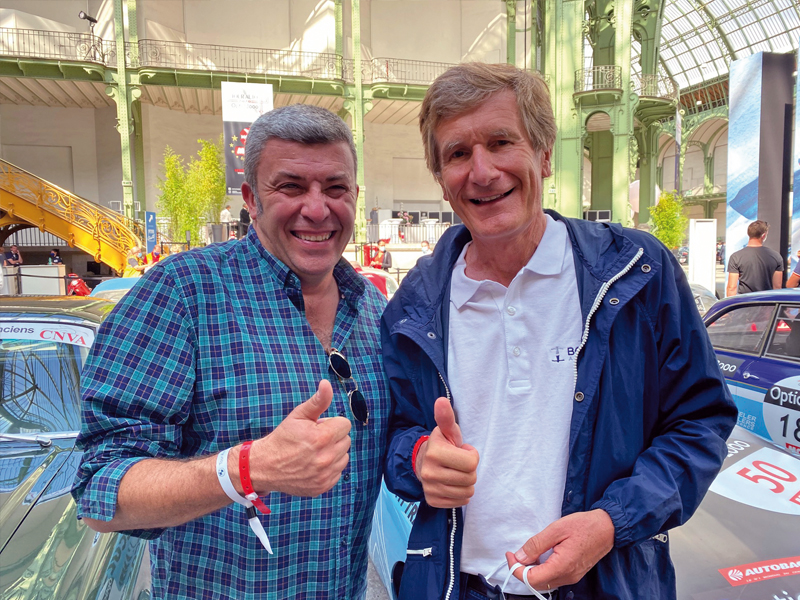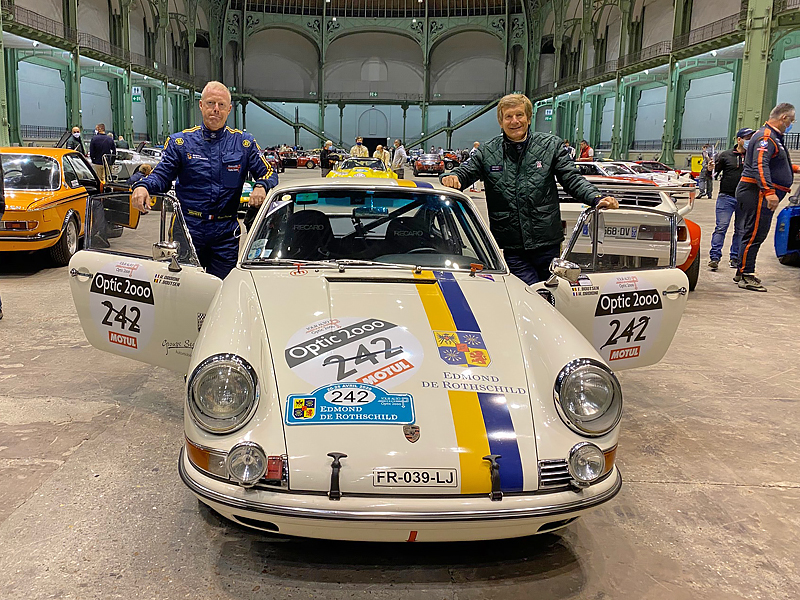 1 - Daniela Boutsen was onsite supporting the team before five days of competition
2 - Safety First!
3 - Thierry Boutsen & French automotive journalist François Allain taking a moment for a smile before the start of the race!
4 - 1965 Porsche 911 2.0
DAY 1 PARIS (GRAND PALAIS) => CLERMONT-FERRAND
---
Published by Boutsen Aviation
RESULTS
Thierry Boutsen/Hervé Ordioni (BEL/FRA) - N° 242 - Porsche 911 2,0L - VHC Group

COMPETITION

Pos
Time
Tp+ Pen.
Coef.
Tp x Coef.
Dif.
29/108
04m 19s
0h 04m 19s
0,91
0h 03m 56s
0h 01m 16s
VHC COMPETITION

Pos
Class
Clt G-C
Time
Tp + Pen
Dif.
17/59
GTS11
14-4
04m 19s
0h 04m 19s
0h 00m 23s
COMPETITION

Pos
Time
Tp+ Pen.
Coef.
Tp x Coef.
Dif.
20/108
18m 06s
0h 18m 06s
0,91
0h 16m 28s
06m 53s
VHC COMPETITION

Pos
Class
Clt G-C
Time
Tp + Pen
Dif.
11/56
GTS11
8-1
18m 06s
18m 06s
01m 37s
Overall Classification After Leg 1
COMPETITION

Pos
Time
Penalty
Coef.
Time
Dif.
20/108
0h 22m 25s
-
0,91
0h 20m 24s
0h 07m 55s
VHC COMPETITION

Pos
Class
Clt G-C
Penalty
Time
Dif.
12/59
GTS11
9-1
-
0h 22m 25s
0h 01m 53s
DAY 2 CLERMONT-FERRAND => LIMOGES
---
Published by Boutsen Aviation
RESULTS
Thierry Boutsen/Hervé Ordioni (BEL/FRA) - N° 242 - Porsche 911 2,0L - VHC Group

EC 3 - Circuit CHARADE (Without Penalties)
REGULARITY

Pos
Group
Gr. Pos.
Plateau
Time
Dif.
10/37
VHC
36
4
19m 11s
01m 22s
VHC COMPETITION - SPECIAL STAGE CLASSIFICATION

Pos
Class
Clt G-C
Time
Tp + Pen
Dif.
10/53
GTS11
7-1
19m 11s
0h 19m 11s
01m 22s
EC 4 - LES PUYS - PAYS GENTIANE
COMPETITION - SPECIAL STAGE CLASSIFICATION

Pos
Clt G-C
Time
Coef.
T. x Coef.
Total
26/80
16-4
0h 08m 38s
0,91
0h 07m 51s
0h 07m 51s
VHC COMPETITION - SPECIAL STAGE CLASSIFICATION

Pos
Class
Clt G-C
Time
Tp + Pen
Dif.
16/49
GTS11
14-4
0h 08m 38s
0h 08m 38s
0h 00m 50s
COMPETITION - SPECIAL STAGE CLASSIFICATION

Pos
Clt G-C
Time
Coef.
T. x Coef.
Total
46/91
29-7
0h 09m 18s
0,91
0h 08m 28s
0h 08m 28s
VHC COMPETITION - SPECIAL STAGE CLASSIFICATION

Pos
Class
Clt G-C
Time
Tp + Pen
Dif.
29/49
GTS11
21-7
0h 09m 18s
0h 09m 18s
0h 01m 16s
Overall Classification After Leg 2
COMPETITION

Pos
Time
Penalty
Coef.
Time
Total
18/95
0h 59m 32s
-
0,91
0h 54m 11s
0h 54m 11s
VHC COMPETITION

Pos
Class
Clt G-C
Penalty
Time
Dif.
12/50
GTS11
10-2
-
0h 59m 32s
0h 04m 18s
DAY 3 LIMOGES => TOULOUSE
---
Published by Boutsen Aviation
RESULTS
Thierry Boutsen/Hervé Ordioni (BEL/FRA) - N° 242 - Porsche 911 2,0L - VHC Group

COMPETITION - SPECIAL STAGE CLASSIFICATION

Pos
Clt G-C
Time
Coef.
T. x Coef.
Total
34/92
20-6
0h 08m 15s
0,91
0h 07m 30s
0h 07m 30s
VHC COMPETITION - SPECIAL STAGE CLASSIFICATION

Pos
Class
Clt G-C
Time
Tp + Pen
Dif.
23/50
GTS11
17-6
0h 08m 15s
0h 08m 15s
0h 00m 50s
COMPETITION - SPECIAL STAGE CLASSIFICATION

Pos
Clt G-C
Time
Coef.
T. x Coef.
Total
29/87
15-4
0h 06m 42s
0,91
0h 06m 06s
0h 06m 06s
VHC COMPETITION - SPECIAL STAGE CLASSIFICATION

Pos
Class
Clt G-C
Time
Tp + Pen
Dif.
17/48
GTS11
13-4
0h 06m 42s
0h 06m 42s
0h 00m 34s
COMPETITION - SPECIAL STAGE CLASSIFICATION

Pos
Clt G-C
Time
Coef.
T. x Coef.
Total
26/83
1-1
0h 06m 07s
0,91
0h 05m 34s
0h 05m 34s
VHC COMPETITION - SPECIAL STAGE CLASSIFICATION

Pos
Class
Clt G-C
Time
Tp + Pen
Dif.
19/45
GTS11
1-1
0h 06m 07s
0h 06m 07s
0h 00m 33s
Overall Classification After Leg 3
COMPETITION

Pos
Time
Penalty
Coef.
T. Calculated
Total
45/88
1h 20m 36s
-
0,91
1h 13m 21s
1h 13m 21s
VHC COMPETITION

Pos
Class
Clt G-C
Penalty
Time
Dif.
15/47
GTS11
13-4
-
1h 20m 36s
0h 05m 21s
DAY 4 TOULOUSE => PONT-DU-GARD
---
Published by Boutsen Aviation
RESULTS
Thierry Boutsen/Hervé Ordioni (BEL/FRA) - N° 242 - Porsche 911 2,0L - VHC Group

COMPETITION - SPECIAL STAGE CLASSIFICATION

Pos
Clt G-C
Time
Coef.
T. x Coef.
Total
17/80
9-3
10m 10s
0,91
0h 09m 15s
0h 09m 15s
VHC COMPETITION - SPECIAL STAGE CLASSIFICATION

Pos
Class
Clt G-C
Time
Tp + Pen
Dif.
9/47
GTS11
8-3
10m 10s
0h 10m 10s
0h 00m 26s
COMPETITION - SPECIAL STAGE CLASSIFICATION

Pos
Clt G-C
Time
Coef.
T. x Coef.
Total
19/79
10-3
10m 13s
0,91
0h 09m 18s
0h 09m 18s
VHC COMPETITION - SPECIAL STAGE CLASSIFICATION

Pos
Class
Clt G-C
Time
Tp + Pen
Dif.
12/45
GTS11
10-3
10m 13s
0h 10m 13s
0h 00m 25s
COMPETITION - SPECIAL STAGE CLASSIFICATION

Pos
Clt G-C
Time
Coef.
T. x Coef.
Total
20/82
12-2
11m 16s
0,91
0h 10m 15s
0h 10m 15s
VHC COMPETITION - SPECIAL STAGE CLASSIFICATION

Pos
Class
Clt G-C
Time
Tp + Pen
Dif.
12/47
GTS11
8-2
11m 16s
0h 11m 16s
00m 57s
Overall Classification After Leg 4
COMPETITION

Pos
Time
Penalty
Coef.
T. Calculated
Total
16/83
1h 52m 15s
-
0,91
1h 42m 09s
1h 42m 09s
VHC COMPETITION

Pos
Class
Clt G-C
Penalty
Time
Dif.
11/46
GTS11
9-3
-
1h 52m 15s
0h 06m 53s