The Expert's Corner

Welcome to "The Expert's Corner", Boutsen Aviation's online news journal where you can see that "Our Experts Mean Business". Read about the latest happenings in the business aviation industry, learn about purchasing or selling private aircraft from members of our expert team, and discover in-depth spotlights on specific aircraft models. 

We are also highlighting the experiences of other experts in their respective fields through a series of interviews with CEO's, industry pioneers, and other professionals that we are fortunate to be acquainted with. This series presents their personal thoughts on expanding career paths, life hacks, work values, and more.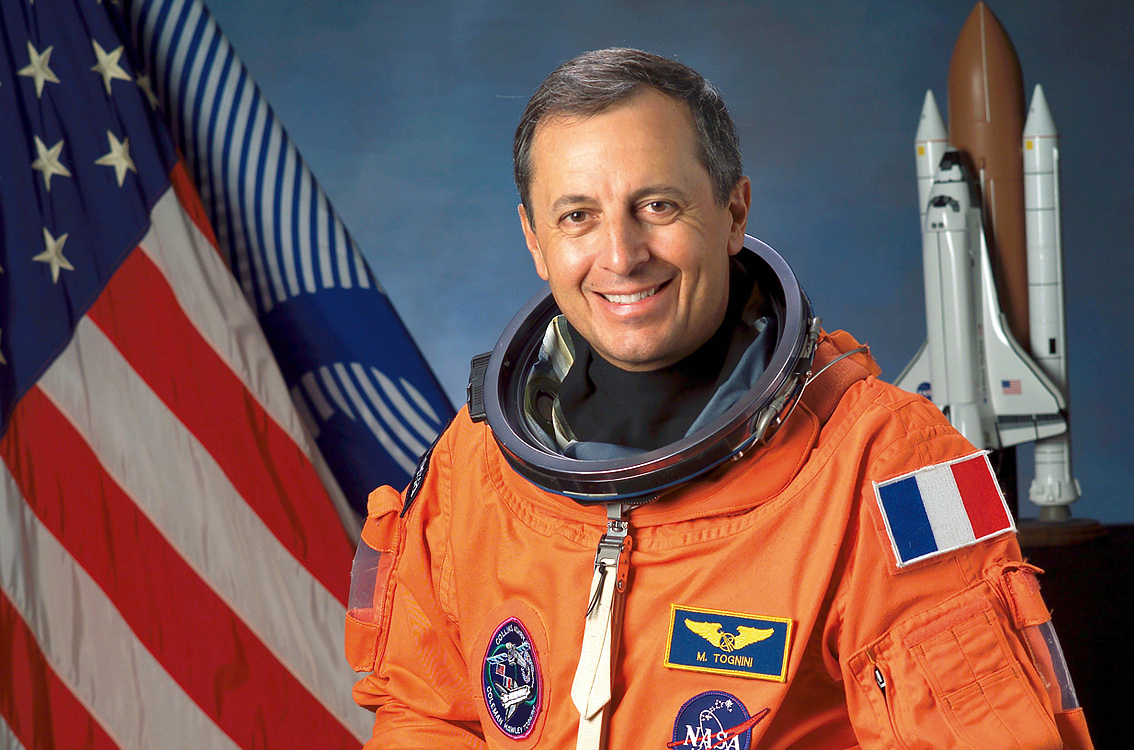 ---
Brigadier General and former fighter pilot in the French Air Force, Michel Tognini is a French astronaut who made two space flights. He was then appointed Head of the European Astronaut Centre and was involved in the recruitment of Thomas Pesquet. In this exclusive interview, he shares details of his incredible journey.

What is your background? How your career path led you to aerospace?
I studied in Paris and specialized myself to "Arts & Métiers" in high school with the aim of becoming an engineer. I then followed two preparatory years called "Maths Sup" and "Maths Spe" in Grenoble within a school called "l'école des pupilles de l'air". This school has a military vocation preparing for the French Air School. I went to this school to become an engineer and get closer to the aeronautical professions. I started flying planes, parachuting and doing a lot of sports. This environment perfectly suited me. Afterwards, I went to the French Air School which led me to become an engineer and then a fighter pilot. I started on an SMB2 and then on a Mirage F1. As I was the oldest flying on a Mirage F1, I was asked to follow the Empire Test Pilots' School in England to become a test pilot. As I had three years of service and was Chief Test Pilot at that time, I entered the astronauts' competition during the selection of French astronauts intending to become pilot on the Hermes space shuttle. I was accepted.
There was an accident with the American space shuttle when I was selected in 1985. I couldn't fly with the Americans and I consequently went to train and fly with the Russians. I started training in 1986 and flew in 1992.
Finally, I went to NASA to do a second mission on the American space shuttle in 1999. After the Columbia accident, I came back to Europe to act as the director of the European Astronaut Centre in Cologne.

What impressed you the most during your two space missions: 'Antares' in 1992 and 'STS-93' in 1999?
The first thing that struck me was the speed at which the space shuttle leaves. We leave the ground at zero altitude, zero speed, and we arrive in space at 28 000 km/h in less than 9 minutes. We turn around Earth 16 times a day, which is extremely fast. I was also impressed by Earth views from space. I will never forget that. I was given the opportunity to see areas that I would never have had the chance to see with my own eyes. I was also fascinated by the work of our engineers. On the first Soyuz mission, we took off and stayed in the spacecraft for two days before reaching the Mir space station. The meeting was at 28 000 km/h. We had to enter the meeting system and hold on to the station at 30 cm per second. I was amazed by the success of the engineers who handle this perfectly.

What was the biggest challenge you faced during both missions?
The biggest challenge was during the first mission when we had to adapt ourselves to this new environment because we never know how we will behave in space. We always get space sickness, we don't feel well for a day or two. We have to deal with this unknown adaptation. We go from 1G to 0G in 5 minutes and we have to do everything without weightlessness. Weightlessness is very convenient because when you are in an office for example, you can put everything on a desk and items will miraculously hold by the weightlessness of Earth's gravity. When we are in space, well, we can't put anything on the ground anymore because everything will fly away, so we have to think of fastening and locking. As soon as we do the slightest action like screwing a base on the ground, we have to hold the base and when we push, that is to say, execute an action with our body downwards, there will be systematically a reaction upwards on the other side. There is a lot to learn, but after a few days, everything goes well.

On the second mission, the biggest challenge was to launch a telescope called Chandra. It is an X-ray telescope that was extremely heavy. The big challenge was to get the mission right and not make any mistake so that this very expensive telescope could be sent properly into space.

What goes through your mind at the moment of take-off?
At the moment of lift-off, we leave with confidence. We are surrounded by people we are close to: engineers, friends, fellow astronauts, etc. My parents & my children were there... We are surrounded by all these people and we feel a kind of joy. There is also a ceremony, in Russia as in the United States, which always happens with the same scenario. We always leave the astronaut building at the same time. Then we have to take the bus to the launch pad and afterwards, there are the dressing of spacesuits, the speeches with ministers and top officials, etc. All this preparation takes time. We arrive then in the space shuttle. That's when we feel a real difference as we leave this hectic world and come face to face with ourselves. The three astronauts get into the space shuttle. We are now alone with the radio as the only link with Earth. We use our memory to visualise what we were doing in the simulator. We rehearsed in the simulator for two years before the mission. We are just like in it except that this time, it is the real mission. We proceed to the checks with our usual checklist. We enter the space shuttle 2.5 hours before take-off and then the countdown starts. In the last minute, we have finished the vital actions and checks. We get a bit more worried now because we know that it's going to happen and that turning back is no longer possible at this point. We have to leave. We know it's dangerous too. It's a mix of excitement, joy and worry... There's a lot going on in our heads at this moment. It's a complete discovery. When the engines start up, there's another feeling coming up. We are really listening to everything that is going on. The space shuttle takes off and we start to feel the acceleration. This acceleration is reassuring because it is the same as the one we feel when we are in the centrifuges. The difference is that there are both acceleration and vibrations, so it is no longer simulated like in the simulator. All the training we did in Russia gave us a maximum vision to what the flight will look like.

So you are well prepared to deal with all these emotions that are mixed up at the moment of take-off…
Yes, we are well prepared, but there are of course unknown factors such as the duration of acceleration and vibrations. We are still shaken up at the moment of take-off because we go to 4G in 9 minutes. It's still quite a lot, but on the whole it goes very well.

How did you manage the stress generated by these missions?
The stress is managed by sessions we do in the simulator. The training is quite long lasting two years for a mission. During these two years, we learn all systems by heart. We already operate in nominal individually and then in nominal overlay. We then look at the individual failures of each system, at the complete failures and overlapping failures: electrical + engine + radio failures. As the missions in the simulator progress, we manage to overlay almost all the failures. The missions last between 6 and 8 hours in the simulator and always end with a take-off followed by radio, electrical, engine failures and depressurisation or fire on board. Finally, we end with the fully pressurised spacesuit, so we find ourselves completely inflated. It's quite stressful to be confronted to serious failures on every mission in the simulator. These failures are sent by instructors at the last moment. By dint of preparation and confrontation to these failures on every mission taking place every week or twice a week, we are comforted when we are in flight because we have rehearsed these vital actions frequently.

So you arrive a little bit serene knowing that you have been well prepared…
Yes, if we went without training or reduced training, there would be fear and worry. I put myself in people's shoes, especially the tourists who go with very little training, it's more worrying of course so I take my hat off to them. Our training reassured us as the stress management is done by repeating the failures in the simulator.

Did you feel changed when you were back from these missions?
Yes, we are changed when we are back from the missions because we feel a kind of fullness as we have achieved the mission. The world of astronauts is a binary world, so whether we go into space once or seven times it's the same thing, we've gone above the atmosphere and there's this feeling of having seen Earth differently. We have succeeded the mission including take-off, scientific purpose and return to Earth. This is why there is a feeling of fulfilment for us. We are also a bit sad because the important moment is behind us and we have to manage the aftermath. How are we going to make sure that the aftermath goes well? We have to bounce back. For me, the aftermath was the fact that I was going back to NASA but I didn't know that when we landed. The fact to see Earth from the other side also changed us as we saw the fragility of the atmosphere. We saw the world with the vertical boundary between Earth and atmosphere, which is barely 100 km long. However, there is no horizontal boundary. When we return from our missions, all the 550 astronauts we are, we advocate world peace, and that is why the current events in Ukraine are so distressing for us. We are taking action to try to stop this movement of war which is contrary to our feeling when we are in the space.

You feel concerned by what is happening and you can take action…
Yes, we have started to write letters. We are doing these letters because we have no political vocation, so it is a scientific vocation from us, European astronauts towards the Russian cosmonauts to tell them that we are against this war and we can always find a diplomatic solution. In the same way, American astronauts are doing the same thing, so we all bring a message of peace. We are active but we cannot convince people who are not convinced of what we are saying. However, we are acting at our own scale.

Do you have a particular memory/anecdote that you will always remember?
The whole mission is great: the lift-off, life in the space station, return to the ground... It's all extremely moving, but the first memory that stands out is during the lift-off before reaching the space station. We stayed for two days in the Soyuz spacecraft, which is extremely small. We were really compressed in this small vessel and we don't sleep much. You can imagine, after spending two and a half days without sleeping, we were a bit tired... When we arrived at the meeting, we had to be in good shape because a very complex and dangerous manoeuvre awaited us. There were three of us in the ship and I was on the right side. There was a small window to look out. At this point I could see the space station which was about 40/50 km away. We were below and as I see it, it just passed the Terminator. The Terminator is the difference between the night and the day phase. As we turn around Earth 16 times a day and an orbit of Earth lasts 1.5 hours, we had half day and half night. When we were at the Terminator, all the elements were golden. At first, I didn't see the station but when we switched from night to day, I saw a golden peak appearing in the sky above us and that was the space station. We had the impression of seeing a big dragonfly with its fragile antennae. As we couldn't see the ground because we were underneath, we had the impression that it was not moving in relation to Earth because we were at the same speed. It was as suspended by a string, as if it was miraculously holding on in space. It was an extremely beautiful image. A golden object in space. It was almost surreal.

What do you like best about your job?
What I love about this job is that in both cases, with Russians and Americans, I thought it will be impossible at the beginning. The amount of work to do and the number of things to learn are really significant. We really have the impression that we won't make it. I had to learn Russian, for example, and it was complicated because I started from scratch. What I particularly like is that we learn day by day. The human body and our brain start to learn by heart like at school and as we go along, we remember and we succeed even if the task seems completely impossible. When I was with Americans and I went inside the space shuttle, I saw the cockpit with all its instruments and buttons inside. It was like being in a Boeing 747. It seemed impossible to know the cockpit by heart but after two or three years of training, we know all instruments by heart. We could almost touch them with our eyes closed because we have used them so much. That's why I say to myself that even a task that seems impossible at first is possible with training and hard work.

So challenges are adding up day by day and this is what makes the beauty of this job…
Yes, I like to talk about "neural plumbing" in the sense that the more the brain works, the more it learns. It's really important to be able to work, to study, whatever the task & the age. The brain is a machine that works well when it is called upon but stops working when it is no longer so.

If you were offered to go back into space today, would you accept?
Yes, of course, there are more than 500 astronauts on Earth and if you ask them all the same question, they all go back! The mission is always complex and when we are flying, we really feel like we belong to space... We are up there with a crew of three or seven people, and underneath are eight people who have prepared us & help us during the mission. We are at the tip of this inverted pyramid that makes the mission possible. There is also the view of Earth which is unique and then each flight is different, each flight has a particular mission. We feel that we are fulfilling a fundamental task for Earth and I think, like all astronauts, that once we have flown, we can fly again.

What are your next projects?
My projects since I left the space are always related to space. I write books, do conferences, for managers and also for schools. I like to motivate students, especially engineering students or children who are in difficulty. I try to work with them like at the planetarium in Vaulx-en-Velin. I am also involved in the launch of microsatellites, with the "Van Allen" company, and it works very well because with a small satellite that is 10cm by 10cm and is not very expensive, we can already carry out very important surveillance missions. I am also working to launch a space shuttle, a very small one of course, which will launch 350 kg into orbit, so it is not Ariane at all, but it is something we are trying to do privately. I'm also helping with the preparation of a European capsule. We have Ariane 5 and we are going to have Ariane 6 soon. We were going to launch a European shuttle 30 years ago when I was selected but it was not done. Today, we are trying to start again with a possible demonstration: a European capsule launched by Ariane 6.

What do you think about space tourism?
I know it is criticised by many people but tourism is another approach to space. First of all, we can't keep flights just for professionals. It's almost the same philosophy as aircraft flights. A century ago, they were reserved to people who were a bit reckless, daredevils and were doing test flights or war flights. Then aviation led to tourism and commercial flights. Today, people fly all over the world to get from one place to another, to work or to visit. Space tourism is a bit like that, space is a new destination. We started with professionals and then we will have private space stations like Axiom for tourism or for private projects. This allows us to share better with the rest of the world, to convince people who are not necessarily engineers or pilots, or who are from another sector. I have seen the seven or eight tourists who went to the Soyuz station, the Russian one, and there was no failure, so we can trust them. When they come back to the ground, they will talk a bit more positively so that helps us.

You have a rather positive opinion on the matter…
Yes, I have a positive opinion on tourists. They are members of the ASE Association of Space Explorers, so we take them with us to continue working and they are always interested in spaceflight. They help us in one way or another, whether they are engineers, in the film industry or in any other field. We are still at the frontier of these beginnings, we have done 400 km, which is really the frontier of Earth. There are lunar missions, Mars missions coming up and maybe stars missions soon.

What are your other passions?
I fly on a Cessna. I was the director of a flying club in Paris for 6 years. I've also been kitesurfing for 20 years, which is another passion. I also have a sailing boat so I do a lot of sailing in the air and on the sea.

What is the best book you have read recently and why?
I'm currently reading Houellebecq's book, Anéantir. I like it because it's a bit of a futuristic universe about what people could do digitally. It's an enigma with characters who exist today, geopolitics, and a bit about the destruction of the world on a digital level. It allows us to take into account the fact that we have to protect ourselves and be careful with everything related to the image or the broadcasting of events that are not necessarily true. We can see this on TV when there is a war and journalists present images from another conflict. This allows us to be vigilant about the information we receive. I like reading a lot in general. I have also read a lot of books by the author Yasmina Khadra because it explains a little bit about life in North Africa with their suffering and feelings. Strong feelings about this world that we don't know much about.

If you could teleport anywhere in the world right now, where would you choose?
I would say in space, on Mars. It's one of the places where nobody has been. I would go there to see what you can do. Can you live there, work there, build houses there... It is a bit cold though: -20° but I have been to -40° in Russia so I can handle -20°.

Back to Expert's Corner Main Page